"Nobody made a greater mistake than he who did nothing because he could only do a little." Edmond Burke
Join our Habitat Heroes for habitat restoration projects at: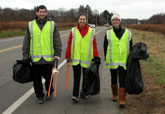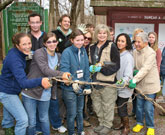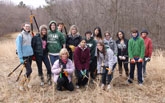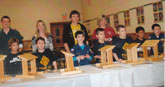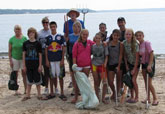 Shu Swamp: Shu Swamp is one of Nassau County's most beautiful and sensitive preserves. HOBAS is in the 4th year of a multi year invasive species eradication program in the preserve. The garlic mustard pulls are conducted each May, while the English ivy is a monthly effort. Throw on some clothes and shoes you don't mind getting muddy and join us at the swamp!
Stillwell Woods: HOBAS conducts service days at this popular preserve, working keep invasive species at bay. If you enjoy working outside, wielding loppers and saws with a fun group of people, please, join us!
Other Area Parks: In 2016 we will be hosting service days at Caumsett State Park and Sagamore Hill National Historic Site.
Target Rock National Wildlife Refuge: We conduct at least one beach cleanup each year (and sometimes two!) at this beautiful Refuge.
Field Trip Leaders: We are always on the look out for knowledgeable and engaging field trip leaders. Please let us know if you are interested in leading a trip for us. It is a wonderful way to meet new people and make new friends. Field trips do not have to be bird focused. Past trips have included jaunts to the Bronx Zoo, paddling adventures, mammal tracking and salamander safaris. Whatever your specialty...botany, flowers, trees, geology, mammals, birds...if you have the knowledge, we would love to have as a trip leader.
Other Opportunities: Other activities include volunteering at our fundraising events, helping out with fundraising efforts (do you like making phone calls? Not afraid to ask for donations? Please, call us!) etc. Please sign up for our email list to receive alerts for volunteer activities as they are scheduled.
For more information or to sign up for one of our projects, please use the form below:
Thank you for your commitment to the environment and your local communities!
Check out our Field Trips and Volunteer Activities page for details on upcoming volunteer events!
Volunteer Information/Sign Up