"While my interest in natural history has added very little to my sum of achievement,
it has added immeasurably to my sum of enjoyment in life." - Theodore Roosevelt
DECEMBER
Wednesday, December 13, 2017 - 7:00 PM
America's National Parks: A Visitors Perspective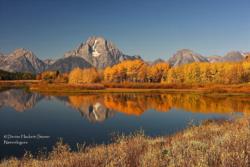 America's National Park Service celebrated its 100th anniversary last year. In honor of this occasion, we will enjoy a look at the grandeur of scenery and the diversity of birds and wildlife of the national parks and other special places protected by the National Park Service. From Maine's rocky coast to Florida's everglades, through the Great Plains and badlands, the mountains and deserts of the west, and on to the unique habitats of Hawaii and Alaska, we invite you to celebrate our Parks with us!
About the speakers: Scott Stoner and Denise Hackert-Stoner are Albany-area birders and nature photographers. Scott is originally from the Town of Brookhaven here on Long Island, where he studied natural history under Dennis Puleston and Arthur Cooley. He is past president of both the Hudson-Mohawk Bird Club and the Audubon Society of the Capital Region, and a past officer of NYSOA. Denise is a field trip leader and past officer of the Bird Club. Denise and Scott, as founders and operators of "Naturelogues," have presented slide programs from Long Island to Rochester on a wide array of birding and natural history topics. They also teach nature photography workshops to several school districts and many conservation groups. Their award-winning photography has been exhibited widely across New York's Capital Region and published in National Wildlife Magazine, the Kingbird (including several covers), the New York State Conservationist, and several books. You can see some of Scott and Denise's work at www.naturelogues.com or on Facebook.
Download/print the flyer for this program
---
Saturday, December 16, 2017 - 1:00 PM
Holiday for the Birds: Storytime, Craft and Walk in the Woods for Kids
Location: Cold Spring Harbor Library
Winter is fast approaching, and soon our feathered friends are going to be seeking extra food. Today we will learn how to give them a little help! We will start by reading a story about how our wild neighbors prepare for the changing of the seasons. We will then turn crafty, and make our own homemade bird feeders out of pinecones! Afterwards, we will all take a winter walk in the woods! This program is for children ages 3 to 7 years old.
Registration is required! Call 631-903-5556 to register.
---
---
All meetings are free and open to the public!
Meetings begin at 6:45pm for refreshments and 7:30pm for speakers at:
Cold Spring Harbor Library
95 Harbor Road (Route 25A), Cold Spring Harbor.
Please check this website often for updates and changes to the schedule.