America's National Parks: A Visitors Perspective

Wednesday, December 13, 2017 - 7:00 PM

America's National Park Service celebrated its 100th anniversary last year. In honor of this occasion, we will enjoy a look at the grandeur of scenery and the diversity of birds and wildlife of the national parks and other special places protected by the National Park Service. From Maine's rocky coast to Florida's everglades, through the Great Plains and badlands, the mountains and deserts of the west, and on to the unique habitats of Hawaii and Alaska, we invite you to celebrate our Parks with us!

Holiday for the Birds: Storytime, Craft and Walk in the Woods for Kids

Saturday, December 16, 2017 - 1:00 PM

Winter is fast approaching, and soon our feathered friends are going to be seeking extra food. Today we will learn how to give them a little help! We will start by reading a story about how our wild neighbors prepare for the changing of the seasons. We will then turn crafty, and make our own homemade bird feeders out of pinecones! Afterwards, we will all take a winter walk in the woods!

This program is for children ages 3 to 7 years old.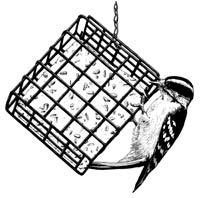 HOBAS would not be HOBAS without our annual birdseed sale! However, we are mixing it up just a little this year, hosting the birdseed at our local Wild Birds Unlimited from Syosset. But we are offering even more flexibility in picking up your order!
How to order: Fill out your order form and mail back to us with a check by November 19! If you're a HOBAS member, you should receive yours by mid-October. You can also find the form here.
How to pick up: on the form you are asked to select a SINGLE pickup date, from Wednesday November 29 to Sunday December 3. We ask for one single date as a courtesy to the volunteers who will be on standby to load your birdseed into your vehicle.
Weekday pickup hours are 10 AM to 6 PM; weekend hours are 12 PM to 5 PM.
If you have any questions, please contact our own Andy Burke or Stella Miller at Wild Birds Unlimited: (516) 226-1780.
Wild Birds Unlimited is located at 625 Jericho Turnpike Syosset 11791. GPS alternative: 48 Hidden Ridge Dr., Syosset
Recommended By Huntington-Oyster Bay Audubon