Order Now and Pick Up on May 8!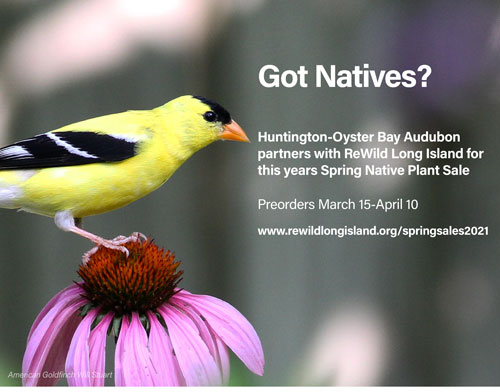 ReWild Long Island has partnered with the Huntington-Oyster Bay Audubon Society (HOBAS) to host a native plant sale this spring!
ReWild Long Island is a non-for-profit organization, which has been organizing online pre-orders to procure native perennials from specialized nurseries and offering them locally to residents and landscapers looking for these hard-to-find varieties. This spring, HOBAS has joined hands with ReWild Long Island to offer a plant distribution site in Centerport, Huntington, NY.
How to Order:
Starting March 15, you can pre-order your native plants at www.rewildlongisland.org/springsales2021. Last day to order plants is April 10, 2021.
On the ReWild Long Island website, select the following pickup location: Huntington-Oyster Bay Audubon Society (HOBAS), Centerport, NY. The proceeds of this sale will be directed to support HOBAS. Our scheduled pickup is Saturday, May 8, 2021, right on time for Mother's Day!
You will find a wide selection of over 100 hard to find native plants that are offered at affordable prices:
Flowering perennial favorites including Asters, Milkweed and Coneflowers
Wide selection of ground cover including ferns, sedges and grasses
Bushes including edible blueberries and chokeberries
Native trees such as dogwoods and serviceberries
Please visit www.rewildlongisland.org/springsales2021 to check out the plants that are available for purchase.
Please note:
We distribute small plants. Most plants are under a quart, and none over 5 gallons. That is because it is expensive and labor intensive to move big plants, and we want to keep it affordable for all. The good news is that small plants + time = big plants + happy butterflies and bees!
Keep in mind small and medium perennial plants typically flower in the second season.
You cannot change your order after April 10. All payments are on the website via Paypal or credit card only. All sales are final past April 10, 2021 - no returns or refunds, unless we are unable to fulfill your order.
Every plant listed on the ReWild Long Island Sale was listed as available at the nurseries. However, nurseries have limited stock and sometimes run out. We will do our best to satisfy your order. If we cannot satisfy your order, we will refund that portion of your money by check after May 15, 2021.
How to Pick Up Your Plants:
Due to COVID guidelines, we will be doing staggered pickup times.
If you selected the HOBAS Centerport pickup location, we will be sending you additional instructions by email regarding your pickup time.
If you have any questions regarding the native plants, please contact info@rewildlongisland.org. For any other questions, please contact Julie Sullivan, HOBAS board director, at jsllvn768@gmail.com.