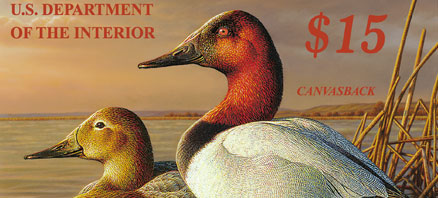 When you purchase a $25 Migratory Bird Hunting and Conservation Stamp ("Duck Stamp") you are contributing to an important method of conserving habitat. Ninety eight cents of every dollar generated by the sale of the stamp goes directly to purchase or lease habitat in the National Wildlife Refuge System. In addition, the stamp serves as an entrance pass for National Wildlife Refuges.
Since 1934, the stamps have generated over $800 million, which has been used to purchase or lease over 6 million acres of waterfowl habitat in the US. Currently, there are over 550 National Wildlife Refuges in the United States providing habitat for more than 700 species of birds, 220 species of mammals, 250 reptile and amphibian species and more than 1,000 species of fish. More than 380 threatened or endangered plants or animals are protected on wildlife refuges and each year millions of migrating birds use refuges as stepping stones while they fly thousands of miles between their summer and winter homes.
Duck stamps can be purchased online at www.fws.gov/birds/get-involved/duck-stamp.php or at your nearest post office.
A Federal Duck Stamp is the most conservation bang you can get for your buck. Please purchase one today.
Please note that the price of a duck stamp has been increased from $15 to $25, a price increase we can all applaud.